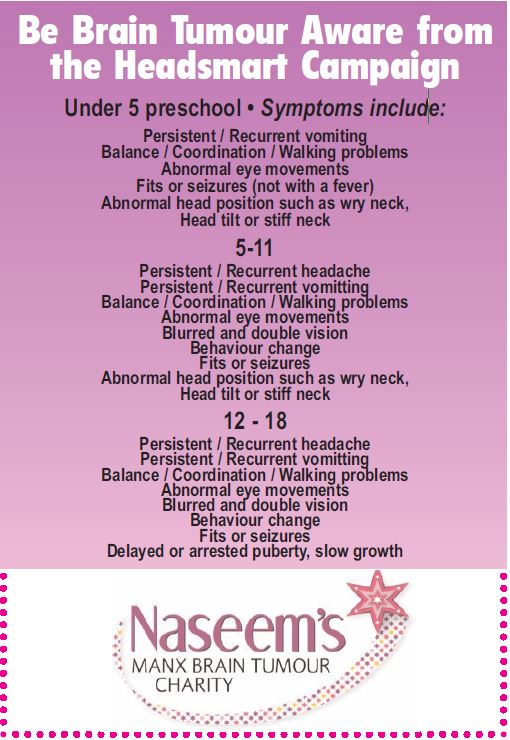 In February 2015 Naseem's charity began an Island Wide initiative to promote the Headsmart Campaign via the Islands Schools. In Geri's words....

Last year I visited the House of Commons and met up with members of the Brain Tumour Charity who informed us of their Campaign to distribute all school children. As we could see this benefitting our local children the Charity decided to work with them to distribute the Headsmart tri-fold leaflets to all school children on the Island and so at that time we wrote to the schools. We have been helped by the Department by giving us pupil numbers on roll and the school addresses.

We want to make a significant impact on diagnosis times. The early you catch the tumour the better the prognosis.

Brain tumours are the leading cause of childhood cancer deaths in the UK. Around 500 children and young people are diagnosed each year. Diagnosis times in the UK are longer than in many other countries.

We offer advice and financial support to Island residents with brain tumours. We are committed to promote awareness.

The Headsmart campaign has already been ongoing to school children in the UK and many counties have been circulated already.

In July 2013 they were able to announce a further reduction to 6.9 weeks

They aim for it to be under 5 weeks to be on a par with or better than the rest of the World.

The symptoms cards are to create an awareness for parents/carers/health care professionals.
The have been sent to all GPs on the Island.
We are hoping to circulate them to opticians too.


Naseemís Manx Brain Tumour Charity is a local cause founded in 2009 by Naseem Pishvaie, a brain tumour sufferer from the island. Brain tumours are one of the biggest killers of young people in Britain today. Itís estimated that a child dies of a brain tumour in Britain every three days. Naseemís Charity, in conjunction with the Brain Tumour Charity Headsmart campaign, is helping to put that right. We have launched a campaign to distribute Headsmart leaflets in our local education office, GP surgeries, our website and Facebook page.

If you are interested in attending a future BT event hosted on the island by our charity, please email us on Naseemscharity@manx.net. On our website you will find information about brain tumour organisations.

We offer financial assistance to sufferers. Working with other brain tumour charities and scientists, we have contributed to research with the hospitals where local residents are often treated including Walton Centre, Clatterbridge, Liverpool University and Brain Tumour UK. Please support sufferers on the Isle of Man as going through treatment sometimes staying off island in strange places is a terrible ordeal Ė we have had some sad cases over our five years as a charity. Every penny donated goes to our aims and objectives with no administration costs.

If you can donate to the charity or help promote www.Headsmart.org.uk by displaying the awareness cards or posters let us know.