September 2012

Lyndsey Ryan and Alexandra Gilbertson plan a 5 day challenge of a lifetime trekking over the great wall of China in March 2013. This will consist of up to 9 hours a day through mountains and valleys raising funds for Manx Brain Tumour sufferers. Click here for more info.

June 2012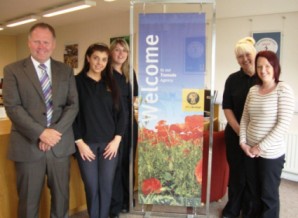 NFU Mutual are a general Insurance company with an office based in Tromode. They sell general insurance products such as motor, house, horse & business inurance. With most of our new business coming from recommendations from friends and family they decided to donate £20 to charity for each recommended policy that was sold. Each year they help a different charity and and this year Naseem's Manx Brain Tumour Charity was chosen. They were all very pleased with this as many of the staff went to school with Naseem. They are now 6 months into the year and are pleased to confirm that already they have raised £2,060, with another 6 months to go hopefully this will be doubled if not more! Grateful thanks go out to all the staff at NFU from our trustees.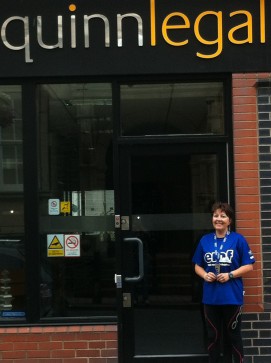 Ali Wilson recently ran the Edinburgh Marathon for the Charity. She enjoys running and ran a half marathon about 10 years ago, so this was the next step and maybe the time was right. Ali had lots of support from her family especially especially during the harsh winter months, and she picked up a couple of injuries along the way but once all those were sorted she decided that she would run in Ruth's Gell's memory so Naz's charity immediately came to mind. They experienced so many difficulties in getting Ruth to and from the UK for treatment and obtaining local knowledge/support about brain tumours that they experience through her illness.

Gerry Naseem's mum had the pleasure of meeting Ruth Gell whilst at Clatterbridge, and she said was a wonderful lady.

Ali said: "I think what you are doing in Nas's memory is and will continue to be a wonderful support for families finding themselves in a similar position."

Thank you to Ali and all her supporters for donating to the Charity from all the trustees.

May 2012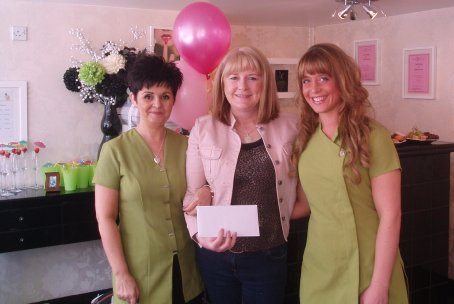 Gerry, Naseem's mum presents a cheque to Emily Phoenix's sister and Kath Purvis at the fundraiser for Emily at Hot Gossip today 6th May 2012. Emily who is now 10 years clear of a brain tumour that has left her with no hair and in a wheel chair is going to have a quality wig made to measure. We hope our contribution helps reach the target and well done everyone involved.



April 2012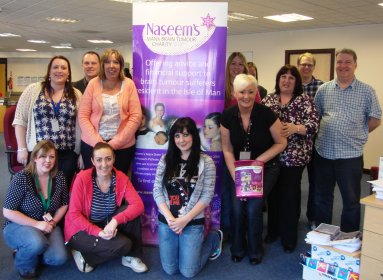 Staff from the Department of Social Care holding a dress down day on 5th April for Naseem's Charity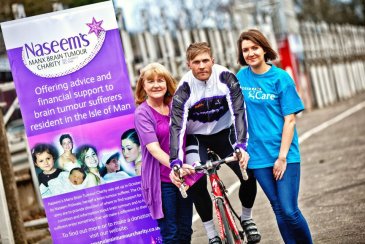 In April 2012 Ben Carling cycled a lap of the TT course (38 miles give or take) every day throughout the month starting on the 1st and finished on the 29th. This totalled some 1100 miles on his own and was around his normal working hours.

He will be setting up a justgiving donation page and will place a collection bucket at the gym where he works, he will also e-mail a donations sheet around all his contacts. Funds raised will go half to Naseem's Charity and half to Crossroads Caring for Carers. If you know Ben then please check his page or pop into the Gym where he works to make a donation. Thank you for your continued support.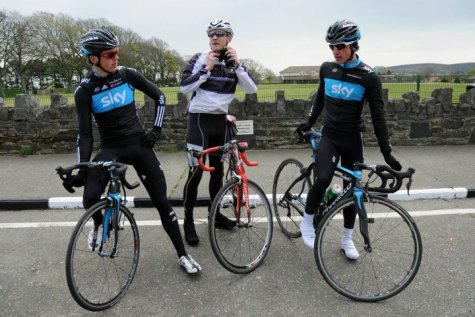 Also please check out Ben's facebook page for regular daily updates.
Please click here for an interview with Ben after he had finished his challenge.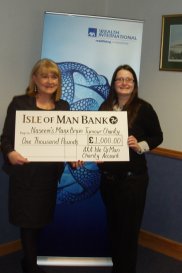 Axa recently presented Gerry with a cheque for £1000 after recent fundraising held by the staff. Pictured are Gerry and Devon Patterson.




January 2012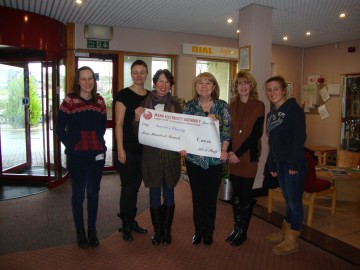 Cheque presentation from MEA staff.